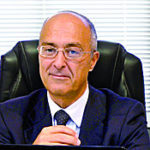 Posted by Pierre Molin
On Monday May 16th, 2016

In

0
Attorney at law in Milan and founder of Lucerna Iuris, the first legal international network of lawyers from all the EU countries specialized in compliance, commercial communication and treatment of personal data related cases. He teaches Data Protection and Privacy Engineering, Consumer, Marketing and Food Safety Law in specialization courses both in Italy and abroad. He is President of the European Observatory on Data Protection. He presides the Jury for Self Discipline in Direct Commercial Communication and for remote sales. He is member of the American Society of International Law, American Society of Comparative Law and the International Association of Privacy Professionals. He is also Senior Auditor for the Privacy Compliance. He is the Italian referent for researches at the British Society of Comparative Law for both data protection and privacy. He presides several Supervisory Boards for the 231/2001 Law and is part of the scientific committee of judicial publications and is editorialist on data protection, marketing law, computer security and companies' organization liability for newspapers and magazines. He takes part to domestic and international symposia on privacy protection, telecommunication law, e-commerce, right of information, consumer Law and copyright since 1996.